Alpha Case, 2% HF, 250 mL
Description
Alpha Case solution contains 2% HF (hydrofluoric acid). It is an etchant for titanium, but it also works on some aluminum alloys. This product is usually used in conjunction with Kroll's Reagent to reveal the alpha case layer of a titanium alloy. The sample is usually etched with Kroll's Reagent first, then this solution. The alpha case structure, if present, will appear near the surface as a layer of white grains. The formula is listed in ASTM standard E407 as number 11. Made with ACS reagent grade hydrofluoric acid.
We only make this product upon request, please allow 1 business day to fill the order.
User Instructions:
Warning! This product contains a small amount of HF (hydrofluoric acid). HF is a contact poison. Please wear protective gear. Seek medical attention immediately if it gets on the skin. HF will attack glasswares, please use a plastic container to transfer this liquid.
Immerse or swab the sample a few seconds to a minute.
Packaging:
Nalgene® Leakproof Bottle, HDPE.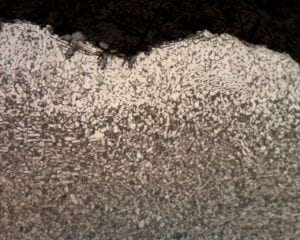 Additional information
| | |
| --- | --- |
| Weight | 0.8 lbs |
| Dimensions | 4.4 × 2.7 × 6.5 in |
Overnight and UPS collect available.

Commercial shipping address required.