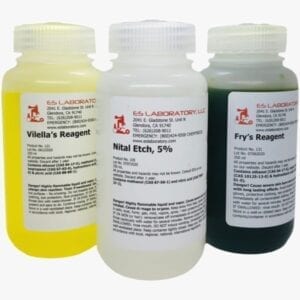 High Quality, Affordable Metallographic Etchants
In stock, ready to ship!
Overnight Available
Overnight and UPS collect available.

Commercial shipping address required.
ES Laboratory, LLC is a metal testing lab specializing in metallography. We also sell metallographic etchants for metallurgical studies or weld inspection through this online store. If you have any questions about our products, please email us or give us a call. We are available Monday to Friday from 9:00 AM to 5:00 PM Pacific Time. Thanks for visiting!
Our metallographic etchants are made with high-quality, reagent-grade chemicals. They are mixed by our metallurgist to ensure quality.
We provide complimentary testing to find the best etchant for your alloy.
Our products are always in stock and available for immediate overnight shipment.
We offer free technical support from our metallurgist. You can also use our etchant selection guide to look up the correct etchant for your alloy.
Our shipping fee is low, and we ship to locations within the USA and Canada directly.