Description
Copper Etch is a general-purpose grain contrast etchant for copper, brass, and bronze. It produces a nice flat etch for some copper alloys. This product is made with reagent grade and USP grade chemicals. This formula is listed in ASTM standard E 407 as number 30. The product has two parts and has to be mixed fresh before use.
User Instructions:
This product has a pungent odor. Wear protective gear and use it under a fume hood.
Mix equal volumes of parts A and B to create a mixture (1 to 1 ratio).
Mirror polish a copper sample and then immerse or swab the polished surface with the mixture for a few seconds to a minute.
Use fresh.
Packaging:
Part A: Nalgene® Leakproof Bottle, HDPE, 500 ml
Part B: Brown HDPE Bottle, 16 oz. (We might occasionally ship Part B in 32 oz. bottle based on the supply)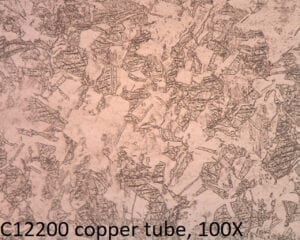 Additional information
| | |
| --- | --- |
| Weight | 2.9 lbs |
| Dimensions | 4.4 × 7 × 6.5 in |
Overnight and UPS collect available.

Commercial shipping address required.