Superalloy Etch (Mod. Kalling's), 250 mL
Description
Superalloy Etch is a modified, stronger version of Kalling's no. 2 reagent. It is very effective on high corrosion resistant superalloys, such as Waspaloy. Made with reagent grade chemicals.
User Instructions:
Polish the sample surface with diamond slurry or alumina (1 µm or finer) before etching.
The metal surface has to be etched as soon it's polished, cleaned and dried without any delay. Otherwise, the metal surface will passivate.
Use this product under a fume hood. Immerse or swab the polished surface few seconds to a minute.
Packaging:
Nalgene® Leakproof Bottle, HDPE.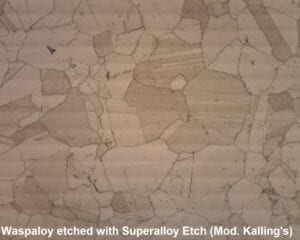 Additional information
| | |
| --- | --- |
| Weight | 0.8 lbs |
| Dimensions | 4.4 × 2.7 × 6.5 in |
Overnight and UPS collect available.

Commercial shipping address required.